Ignis Computer Ltd.
Ignis Computer Ltd.
Ignis Computer Ltd. is a small enterprise having an experience more than a decade in software development. Initially focusing on B2B software solutions, recently we are working in the field of R&D and B2C software development.
Our solutions are currently used by more than 5000 people and many big-sized companies. Our main objectives are the reinforcement of R&D activity and the exploitation of the developed prototypes abroad after the successes made on the domestic market.


The company is actively cooperating with universities and gained great experience in the past few years in the fields of image analysis, deep learning and AI. The enterprise has significant experience in independent developments, most recently in R&D projects funded by either investors or grants. The market introduction of our own innovations was continuous in the past years; therefore the conditions are guaranteed not only for the development but also for the market exploitation.

Contact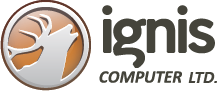 Email:
crocolock@ignis.hu
Company name:
IGNIS Computer Ltd.
Registered office:
H-1147 Budapest, Jávorka Ádám u. 65. Hungary
R&D site:
H-5661 Újkígyós Kossuth u. 22., Hungary.
Company registration number:
01-09-864525
VAT number:
13616935-2-42
CEO:
Szarvas Péter